03. 05. 2015. 15:51
From the legendary siege of Eger in 1552 by the Turkish army to the last years of peace before World War I and accounts about World War II and its aftermath. For history aficionados.
Géza Gárdonyi: Eclipse of the Crescent Moon
Translated with an introduction by George F. Cushing
Budapest: Corvina, 2008. 8th edition
One of the most widely read novels in Hungarian, a story of patriotism and romance, Gárdonyi's (1863–1922) Eclipse of the Crescent Moon tells the story of the siege of Eger in 1552 where the Hungarian defenders, including civilians, numbered about 2,000. They successfully held out unaided for thirty-nine days against a Turkish force at least twenty times as great which also had impressive superiority in weapons. Eventually, the Turks withdrew in disgrace. It was the first successful attempt to oppose the Turks in Hungary since the disastrous Battle of Mohács in 1526 had paved the way for their domination in the Danube Basin. Read about the Turkish translation of the novel here.
Zsigmond Móricz: Gold in the Mud
Translated by Virginia L. Lewis
Library Cat Publishing, 2014
No other writer gives such a complete picture of Hungarian society between 1909 and 1942. The novel's central theme is the deplorable waste of human potential resulting from the repression of the peasantry in what was still a largely feudal society, even in 1910. Gold in the Mud, arguably the most powerful novel Zsigmond Móricz (1879–1942) penned, is an account of how Hungary's long-standing social and economic injustices stripped its peasantry of access to agency, happiness, and success. See our review here.
Miklós Bánffy: The Writing on the Wall. The Transylvanian Trilogy
3 vols. Translated by Kathy Bánffy-Jelen and Patrick Thursfield. Foreword by Patrick Lee Fermor
London: Arcadia Books
Vol. 1. They Were Counted. 1999. Vol. 2. They Were Found Wanting. 2000. Vol. 3. They Were Divided. 2001
Count Miklós Bánffy (1873–1950) was an aristocrat and landowner from Transylvania who played an exceptional part in the political and cultural life of his day. His trilogy tells the story of Hungary in the last years of peace before the Great War of 1914. They cover ten years in the life of Count Bálint Abády, a Transylvanian aristocrat, landowner and politician and the sad tale of the wasted life of Abády's cousin, Count László Gyerőffy.
Alaine Polcz: One Woman in the War. Hungary 1944–1945
Translated with an introduction and notes by Albert Tezla
Budapest–New York: CEU Press, 2002
A thanatologist by profession, Alaine Polcz (1925–2007) was married to writer Miklós Mészöly. Her narrative unfolds from March 1944 to fall 1945. Two strands progress together: her unhappy marriage and her war experiences, particularly during the three-month period of sexual violence by Russians soldiers. See our review here.
János Nyíri: Battlefields and Playgrounds
Translated by William Brandon and János Nyíri
London: Macmillan, 1989; New York: Farrar, Straus & Giroux, 1995
Narrated by an eleven-year-old boy, Battlefields and Playgrounds is not just another harrowing account of the holocaust. János Nyíri (1932–2002), a London-based expatriate Hungarian, wrote about the conflicts between Hungary's Jewish orthodox village communities and their assimilated, urban coreligionists. See our portrait of the author here.
Sándor Márai: Memoir of Hungary 1944–1948
Translated with an introduction and notes by Albert Tezla
Budapest: Corvina–CEU Press, 2006. Reprint of the 1996 edition
Sándor Márai (1900–1989) sensed he was leaving Hungary for the very last time when he boarded the train to Switzerland in the summer of 1948. He didn't do so merely to save his own skin. Márai intended his exit into exile to be a statement—a warning not only to his homeland, but also to the other writers living in Hungary. By leaving, Sándor Márai wanted to show Hungary's intellectuals that compromise was not an option. See our review here.
György (George) Faludy: My Happy Days in Hell
Translated by Kathleen Szász
Penguin Classics, 2010
My Happy Days in Hell, published originally in samizdat, offers an astoundingly elegant, detailed, and witty rendering of the time the poet spent in the notorious forced labour camp at Recsk. Faludy (1910–2006) testifies to the power of words and culture in the episodes where he describes how prisoners took turns to offer each other symposia about Plato, antiquity, and the Renaissance, or how they memorized the poems which Faludy wrote mentally. See our review here.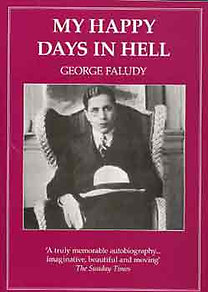 Tags: Alaine Polcz, Miklós Bánffy, Zsigmond Móricz, János Nyíri, Géza Gárdonyi, Sándor Márai, György Faludy