07. 17. 2016. 15:33
"It is damned hard to lie when you don't know the truth." – Péter Esterházy, one of the most influential Hungarian writers died last Thursday, at the age of 66.
Hungarian literature suffered an incredible loss, János Szegő, editor of Magvető, Esterházy's publisher said to the Hungarian news agency MTI. Szegő added that Esterházy was a "father figure" of Hungarian literature who transformed every single act and event of his life into a text, whether it concerned his family or his illness.
Esterházy had an idiosyncratic language which drew upon a variety of sources and layers, from old Hungarian literature to football lingo. His oeuvre, Szegő said, was a typical example of how the clichés and commonplaces of everyday language or sport slang can be transformed into poetry.
"Those who met him personally encountered a person who was very much like one would assume he would be when reading his texts," director of Magvető Krisztián Nyáry said. "He exuded an incredible optimism and serenity, so much so that one was inclined to believe that life was cheerful and happy. This may have seemed as if he was a feelgood type of person, but he was, in fact, a truly moral person. Many of us who were around him were under his influence, one could learn a lot from him." He added that nobody in Hungarian literature could be compared to Esterházy, and that the years to come will probably see a series of conferences and papers discussing Esterházy's place in Hungarian literature. "Esterházy, however, resisted categorizations in a certain sense, and his place is actually quite hard to define. What we can definitely say is that it is very hard to imagine a literary and public life in Hungary without Péter Esterházy."
The last time the public had a chance to meet Esterházy, who was suffering from pancreas cancer since last year, was a month ago, when he opened the Festive Book Week with the words: "At last, a text that does not start with the word 'pancreas'."
Born in 1950, Esterházy was the descendant of an illustrious family of magnates. His grandfather was prime minister of Hungary in 1917. When the Communists seized power, Esterházy's father was deported with his family from Budapest to a village called Hort in the Great Hungarian Plain where they were forced to live from 1951 to 1957. After his father's death, Péter Esterházy discovered that his father had worked for the Communist state security service. His Revised Edition is an account of that discovery and his reaction to it.
Esterházy studied mathematics, but after a brief period of working as a mathematician, he became a freelance writer in 1976. His first book, Fancsikó and Pinta, published in 1976, introduced a refreshingly new, ironic, playful and irreverent voice into Hungarian prose, and had an enthusiastic critical reception. Production Novel (1979) was a liberating, light-hearted yet scathingly ironical description of the frustrating operation mechanisms of the Kádár era. This was followed by a vast collection entitled Introduction to Literature (1986) which included such masterpieces as Little Hungarian Pornography and Helping Verbs of the Heart.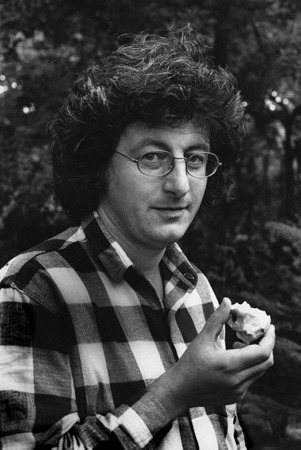 In 1987, Esterházy published Seventeen Swans, the fictitious confession of a 20-year-old woman, narrated in an archaic language, under the pseudonym of Lili Csokonai. A steady stream of novels followed, including The Book of Hrabal (1990), the protagonist of which is Esterházy's wife, talking to the Czech writer Bohumil Hrabal; The Glance of Countess Hahn-Hahn (1992), a peculiar picaresque novel; Celestial Harmonies (2000 – read excerpts here); Revised Edition (2002); Travel to the Depth of the Penalty Area (2006); Not Art (2010); Esti (2010 – read excerpt here); Simple Story Comma One Hundred Pages – The Mark Version (2015), and others. His last work, published in June 2016, is entitled Pancreas Diary.

His books published in English include Helping Verbs of the Heart, The Book of Hrabal, The Glance of Countess Hahn-Hahn, She Loves Me, A Little Hungarian Pornography, Celestial Harmonies, and Not Art. Most of these works were translated by Judy Sollosy who wrote on the challenges of translating Esterházy here. You can read an interview with Esterházy about Celestial Harmonies and Revised Edition in Words Without Borders.
Esterházy is considered as the most important and most influential Hungarian postmodern writer. His books are characterized by an unmistakable voice, intertextuality, playfulness, and fragmentation.
Among the numerous prizes Esterházy received are the József Attila Prize (1986), the Ordre des Arts et des Lettres (1992), the Kossuth Prize (1996), the Austrian State Prize for European Literature (1999), the Sándor Márai Prize (2001), the Herder Prize (2002), the Peace Prize of the German Book Trade (2004), the Pro Europa Prize (2004), the Città di Bari Prize (2006), and the Manes-Sperber Literary Prize (2009).
Read our portrait of Péter Esterházy from 2004 here.
Many of Esterházy's works were popular in Germany and Austria, and often figured on bestseller lists. "The Hungarian master of postmodern irony has died," the Austrian news agency APA commented after Esterházy's death.
Obituaries cited Little Hungarian Pornography (1997) and Celestial Harmonies (2001) among his most important books. The German news agency DPA mentioned that Esterházy had received the Peace Prize of the German Book Trade in 2004 for Celestial Harmonies, and quoted the famous first sentence, "It is damned hard to lie when you don't know the truth."
The French news agency mentioned that John Updike had written about Esterházy in The New Yorker. Updike wrote that "Esterházy's prose is jumpy, allusive, and slangy... there is vividness, an electric crackle. The sentences are active and concrete. Physical details leap from the murk of emotional ambivalence."
Although he rejected linearity, Esterházy was a superb teller of tales who knew that the history of the world could be reduced to anecdotes, that historical events competed with events of private lives, and that by putting the two side by side we could obtain a completely new picture, Die Welt wrote.
The obituary of the Frankfurter Allgemeine Zeitung, entitled "The Master of Montage," stressed that as early as in 1976, Esterházy had turned away from social realism and the representation of reality required by the party state. He rather played with the meaning of words, used various narrative forms, and satirized the loss of reality of descriptive literature.
Tags: Péter Esterházy